Fridays are a Free for all here at BDB. I'll be posting whatever takes my fancy at that time. Feel free to join in with the linky at the bottom of the post.
This year we managed to have a summer holiday. It was our first time away since we travelled the Great Ocean Road in the September over a year before! Just realised that I never blogged about that!
We decided that we just wanted to get away. Not do anything touristy really, just a break away. Having to leave things to late (due to Brian not knowing if he had the time off or not) we couldn't get anywhere by the coast, so we headed to the Barossa and a lovely little town called Williamstown.
Brians mum and step dad came too. I can hear many of you groaning about going away with your MIL, but I am very lucky that we all get along really well.
We headed off about 8.30 New Years Day morning. IL's met us at our place and they followed us.
Was a lovely drive up except our GPS decided to take us bush bashing up a ridiculously steep hill, thank goodness we were in a 4WD! Don't trust the GPS anymore, will be getting a new one!
We arrived early and found that we had been given a fantastic spot. Nice and shady. With the camp kitchen to one side and amenities to the other.
This is our set up. We were able to set up so we were facing each other, which was lovely.
In Laws set up
The weather was very hot. Not usually under 35C and more often than not over 40C. So there was lots of sitting in the van of an afternoon with the air con on.
Some napped, others coloured in (Eli) and I hooked.
The caravan park is owned by the local council. It's set up next to the town oval. With the park on one side and the local pool (recently reopened with new management) on the other. So there was LOTS of this happening.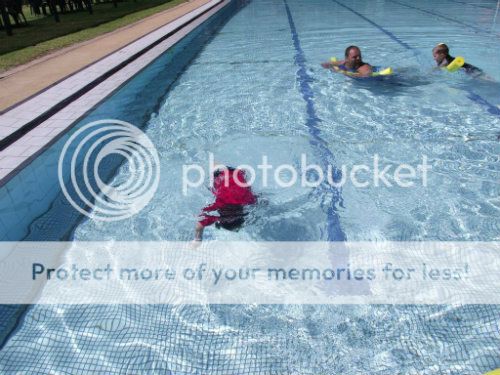 But when the weather was nice there was a bit of this...
lots of this (local cricket match on, you can just see the pool in the background)...
Some milkshake making with Nan
We even managed a trip to the Whispering Wall.
FIL's brother and partner even came up for a drive. Here they all are watching the local cricket under the shade.
I did get a trip into Maggie Beers Farm Shop. Lovely place. Kids had a ball watching the turtles on the pond while I shopped. But it was packed! Guess that's what you get for going on a saturday arvo when it was a relatively cool day compared to the rest of the week.
Had some lovley meals out but by far the best was at the Tanunda Club. Not a very frugal meal by any means but OMG the best, thickest and tastiest beef snitzel with Surf n Truf sauce (hollandaise based) that I have had in a long while!
We loved our holiday and plan to head back up that way in the cooler weather and chill out.
Have you taken a holiday lately??? Care to share?? Just link up below using the Linky tool.
Take Care
Becci
xoxo