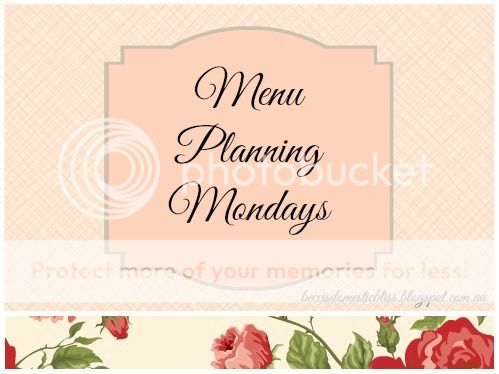 Last week was an absolute scorcher! Cool change finally came on friday though.
I did know it was coming though. We always have one week in January where it is really hot. We usually get taken by surprise and end up eating far too much BBQ and takeaway.
This year I planned to make sure we have plenty of salads ready in the fridge, so we just had to grill some meat and away we went.
We also had the remaining amount on a voucher for the local Tavern to use one night too.
Mon ~ Shark (caught by our eldest) crumbed with salad
Tues ~ BBQ and salads
Wed ~ Thigh fillets in BBQ sauce and salad
Thurs ~ Out for snitzel night at the Tav
Fri ~ Pasta Bosciaola
Sat ~ Beef skillet casserole and veg
Sun ~ Fish and chips at the park for a family get together
Baking:
Too hot to bake most of the week, but yesterday I did get to bake my Herman mix up for the first time. Come back tomorrow to see what I made, it was very yum!
Do you Menu Plan?
Would love for you to share,
link up below using the linky tool.
Don't forget to link back here so others can join in the fun too.
Feel free to grab my button to use too.
Take Care
Becci
xoxo