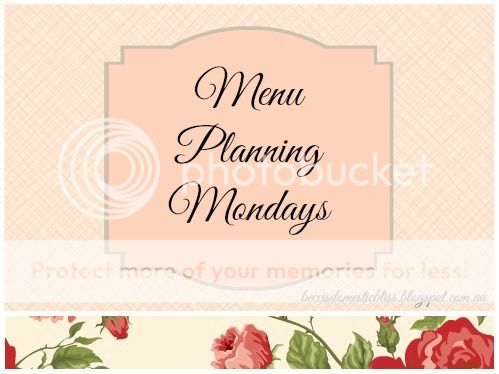 Last week the fan in our computer decided to die. So we didn't have a computer for about a week while they ordered a part and it got fixed.
This week we'll have a double edition of Menu Planning Mondays.
Wed ~ Hot Dogs
Thurs ~ Fried Chicken and veg with pan gravy
Fri ~ Pastitsio and Garlic Bread Scrolls
Sat ~ Leftovers
Sun ~ Australia Day Dinner ~ Lamb Chops,
Potato Bake
, peas and corn (green and gold)
Mon ~ Pancakes
Tues ~ Hot Chip Rolls
Wed ~ Sausages and veg
Thurs ~ Lasagna Rolls
Fri ~ Asian Inspired Omelettes
Sat ~ Steak sandwiches
Sun ~ Roast beef and gravy rolls
Gee can you tell it's been just the boys and I for most of this week???
Baking:
~ Butterfly Cakes
~ Chocolate Choc Chip Herman Cake
~ Whole Orange and Poppyseed Herman Cake
Desserts:
~ Creamed Rice
Back to school baking:
~ Mini beef and veg meatballs
~ Muffin Pizzas
~ Bacon and veg mini quiche
Do you Menu Plan?
Would love for you to Share,
just link up below using the Linky tool.
Remember to link back here so others can join in.
Feel free to grab my button
Take Care
Becci
xoxo