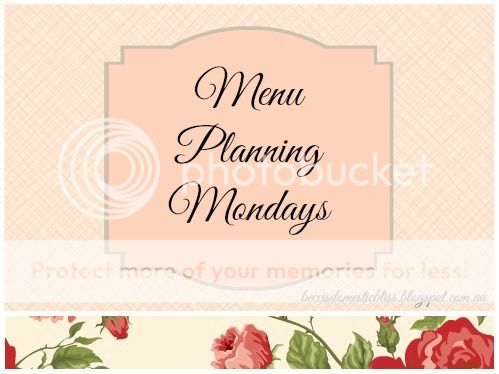 This week is a fairly relaxed week with my menu plan. Brian's working nights mostly so I plan easy stuff to cook and also things that I know the kids will eat. Makes life easier on me plus the boys are always out of sorts without Daddy home as much.
Wed ~ Sausages in gravy with chips
Thurs ~ Meatball subs
Fri ~ Chicken snitzels with creamy mushroom sauce and vegies
Sun ~ Leftovers
Baking:
I have been experimenting with some new recipes for a Bake from Scratch series I hope to run soon. This week I made an awesome new chocolate cake recipe that I know you are going to love!
Herman was ready this week too. We have plenty of muffins in the freezer so I took advantage of some fruit and veg that needed using. I made Zucchini, Sultana, Walnut and Cinnamon loaf x2, and a Pear, Strawberry and Vanilla loaf x2 that I tried a streusel topping on that didn't work out as well as planned but is still yummy.
Do you Menu Plan?
Would love for you to share.
Just link up below,
remembering to link back here.
Feel free to grab our button.
Take Care
Becci
xoxo