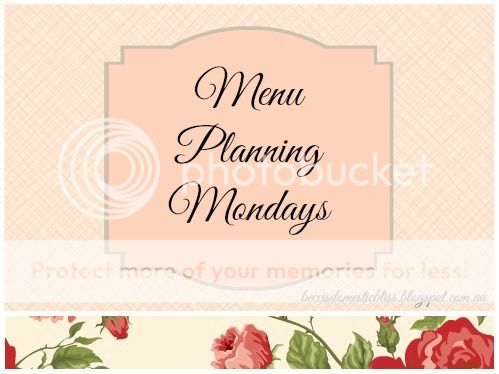 I've had a head cold slash flu thing this week and it's been Brians week of nights so our meal plan has been very basic and not exactly healthy.
Mon ~ Meat pies
Tues ~ Easy
Wed ~ Tuna Mornay
Thurs ~ Yumbos
Fri ~ Out for snitzel night at the pub
Sat ~ Homemade vegie full sausage rolls
Sun ~ Ham and veg soup using the ham bone from christmas
Baking:
I had a big craving for chocolate cake during the week. I finally baked one on the weekend and it's certainly hitting the spot.
My taste buds seem to have gone on holiday this week with this cold/flu thing so I'm really craving heavily flavoured things. I even been wanting a packet of potato chips because they are so heavily salted that I think I might be able to actually taste them!
Next weeks menu plan will be much healthier and many of the recipes are using the lovely slow cooker.
Take Care
Becci
xoxo