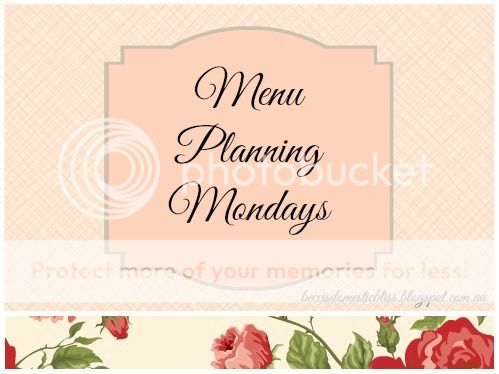 Sorry I've been absent. Have had a few things going on behind the scenes that have been taking my attention lately. Nothing to stress about, but if I'm quiet know that all will be ok and I'll be back when I'm feeling motivated.
So looks like we have a double Menu Plan this week :)
Mon ~
Corned Beef
and veg with white sauce
Tues ~ Curried Sausages
Wed ~ Rissoles and veg with pan gravy
Thurs ~ Slow cooked Pork chops and veg
Fri ~ Spaghetti Bolognaise
Mon ~ Sausages and veg
Tues ~ Fish and veg
Wed ~ Savoury mince on toast
Thurs ~ Hot Dogs
Fri ~ Steak and veg with creamy mushroom sauce
Sat ~ Sausages in onion gravy and veg
Sun ~ Slow Cooked Pot Roast Beef and veg with gravy
Baking:
Not a great deal of baking has been happening. Herman was made into chocolate muffins and that was it!
Take Care
Becci
xoxo